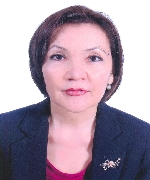 Oral A. Ataniyazova  
Professor, MD, Dr.Sc.,
Senator of Uzbekistan
Rector of Medical University of Karakalpakstan (Uzbekistan)
Member of IPU Advisory Group on Health
Founder of the NGO PERZENT (Uzbekistan)
Goldman Environmental Prize winner, 2000
EXPERTISE
Higher medical education, Reproductive Health, Parliamentarian activity, Environmental Health,  NGO development; Community development;
EDUCATION & TRAININGS
Graduated from Tashkent State Medical Institute, General
Medicine Faculty (Uzbekistan), 1979;
Clinical Internship on Obstetrics/Gynecology at the St.Petersburg Institute of Advanced Medical Training (Russia) 1982-1983;
Completed PhD research program on the topic "Infertility of Women with
polycystic ovarian diseases" at the Russian Scientific Research Center for
Maternal and Child Health (Russia, Moscow) 1984-1987;
Completed research program for Doctor of Medical Science degree on the topic "Reproductive health in the Aral Sea ecological crisis region" at the Russian Scientific Research Center for Maternal and Child Health (Russia,
Moscow) 1992-1996;
Internship on Reproductive Epidemiology study at NIEHS (North Carolina, USA), 1995;
Re-training course on "Pedagogical skills in Medical Education" by the
Second Moscow Medical University, 2002;
Training on "Improvement quality of Medical Education", 2002, AIHA (USAID)
The training course "Sexual & Reproductive Health Research", 13 June- 09 July 2004, London School of Hygiene & Tropical Medicine;
etc.
PUBLIC & INTERNATIONAL ACTIVITY
Founder and chair of NGO "Reproductive Health & Environment – Perzent" since 1992 (Uzbekistan);
Board member of Women's Committee (Uzbekistan);
President of the "International Society of Doctors for Environment" (ISDE, Geneva) (2002-2006);
Board Member of the Central Asian Regional Environmental Center (CAREC) (2001-2007);
Member of Working Group on Protocol "Water and Health" of WHO and UN-ECE
Member of Advisory Board for Global Fund for Women (USA) (2001-2012);
Member of the National Society of Obstetrics & Gynecologists (Uzbekistan);
Member of Coordination Committee for Science at the Cabinet of Ministries, Uzbekistan (since 2006);
National coordinator of the WSSCC (WASH program) in Uzbekistan (2006-20014);
Member of Scientific Committee of World Congress on Environmental Education (2004-2010);
 Parliamentary experience:
Elected for Karakalpak Jokargy Kenes (Parliament of Autonomous Rep Karakalpakstan) in 1999, 2004, 2009, 2014 and 2019;
Elected for Senate of Parliament of Uzbekistan in 2015, 2020;
Presentations at the international conferences:
Presentation at UN CSD meeting in New York ,1997;
Presentation at UN CSD metting in New York, 1998; A key speaker at the Panel
discussion with the representatives from UNEP, UNICEF, WHO, etc.
A key speaker at WHO 3-d Mnisterial conference on Environemnt and
Health, 15-17 June, 1999 London;
Congress of ESPHI in 2000-2001;
Conferences of EU, WHO – Brussels (Belgium); Lucca (Italy) – 2002;
Key speaker at 3 WWF, Kyoto 2003;
Presentation at the Annual meeting of EBRD, Tashkent, 2003
Key speaker at Dushanbe Fresh Water Forum, 2003;
Key speaker at the UN-ECE conference on Sustainable development (Geneva, 2004);
Speaker at the Aral Sea Conference, 2014, Tashkent.
Etc.
Achievements:
Award of the Goldman Environmental Prize, 2000 (for Asia Continent).
Award of Uzbekistan "Health Generation" First degree, 2001
Elected for Senate of Uzbekistan, 2015, 2020
Publications:
More than 100 scientific articles on Health, Reproductive Health, Environmental impact, Aral Sea crisis, etc.