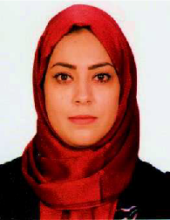 Zinah Ezzulddin NOORULDEEN
Zinah Nooruldeen is a World Health Organization specialist pharmacist in Gaziantep with over 18 years of experience in various pharmaceutical sectors, including supply chain management. She earned her first M.Sc. in Clinical Biochemistry from Baghdad College of Medicine in 2011 and is currently working on her graduation thesis in the M.Sc. program in public health and health promotion from Brunel University in the United Kingdom.
Zinah was involved in the publication of articles on various topics concerning regulations, policies, and improving access to medicines and other health technologies in Iraq. Zinah has handled emergency situations in two areas: Iraq and Northwest Syria. Zinah has received WHO certification in Quality Management System in 2022, Digital Health System in 2022, and has participated in building the capacity of MOH-Iraq in strengthening the national regulatory authority in topics such as Pharmacovigilance, Postmarking, Dossier Review, Good Laboratory Practice, and Supply Chain Management, as well as Good Distribution Plan, Good Storage Practice, and Good Procurement Practice. Zinah helped to build passive and active surveillance systems in Iraq for detecting, reporting, and analyzing AESI and AEFI after COVID-19 immunization.
Zinah also contributed to the improvement of AMR mitigation strategies by establishing and strengthening various surveillance systems for AMR, Antimicrobial Consumption, Use, and Stewardship, developing, and updating the national action plan, and improving the required coordination and collaboration between WHO, FAO, and OIE as one health approach.