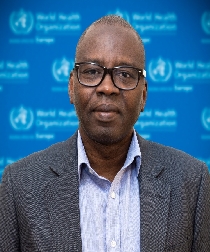 Elrasheed Abdelrahman IDRIS
Dr. Elrasheed Idris, from Sudan, has a medical degree and a Master's in Tropical Medicine – from Liverpool university- UK.
I Joined the WHO Health Emergency (WHE) program in 2017, my current position is the technical officer for secondary and specialized care to support health contingency emergency preparedness and response planning particularly related to critical care, trauma management, mass casualty management, chemical event, and disaster planning, strengthening the quality of secondary and specialized healthcare services and strengthening the Expanded Programme on immunization (EPI) national and sub- nation vaccination campaigns (Polio, Measles, and COVID-19)  in northwest Syria.
I have over 15 years of experience in various organizations, and I worked in different countries such as Afghanistan, Ethiopia, Sudan, South Sudan, Somalia, Nigeria, Kenya, Yemen, and Syria. I have the expert knowledge and skill to perform substantial tasks relevant to health emergencies in humanitarian contexts including d remote management and cross-border operations such as currently in northwest Syria and previously in Somalia South Syria.