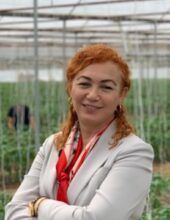 Over 25 years of diverse professional experience in multi-disciplinary and international area. Working in intergovernmental organization as manager dealing with a big project portfolio.
Her 25+ year's career included extensive experience in project preparation, implementation support and evaluation in agriculture, income generation, diversification in rural development and preparation of policy paper and strategy and value chain development strategy.
Project management, food security, food safety, rural development, governance, resource mobilization, natural resource management and climate change and partnership development are the areas of her work.
She is flexible, good communicator, negotiator, team player, manager and result oriented. She has analytical approach and competencies in solving complex development problems. She is very flexible and tolerance in nature and has the ability to work in harmony with her peers using all communication tools while strongly supervising.
She is lecturer on food security, agriculture policy, agriculture extension, project cycle and management, and marketing.
She has been engaged several projects in Central Asia, Europe and Africa.
Keywords: Agriculture, food security, food safety, project management, rural development, resource mobilization, international relations, government relations, capacity development, emergency, resilience, partnership development.