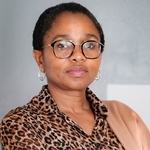 Thuthula Balfour
I am a qualified medical doctor and public health medicine specialist with an MBA and Diploma in Occupational Health. I have a wealth of management experience that spans 30 years, 17 of which have been at a strategic level and 10 in the mining industry. I have gained experience in varied settings across the public and private sectors. My key strengths lie in strategic leadership and analysis, advocacy and lobbying, project and financial management and stakeholder management. For the past twelve years I have been the Head of Health at the Minerals Council South Africa. I was recently appointed to serve on the Ministerial Advisory Council for COVID-19.
I have led several initiatives in the industry with massive improvements in monitoring performance and outcomes in key areas that are critical to the image of the industry. I have also built networks that have been of value to the industry and have a good understanding of the challenges faced by international mining companies in this era.
I have a certificate in Board Leadership from the Gordon Institute of Business Science and am a member of the Institute of Directors of South Africa. I have served on several boards including the Medical University of Southern Africa, Department of Labour's Compensation Board and Department of Mineral Resource's Mine Health and Safety Committee. I currently serve on the board of an NPO, Vuyani Dance Theatre and on the board of the South African Business Coalition on Health and Aids (SABCOHA). I also serve on the Business Unity South Africa Task Team on the National Health Insurance. I had the honour to be named as one of the Top 100 Global Inspirational Women in Mining in 2018.